Brad Pitt and Angelina Jolie plan to tie the knot at last at their sprawling estate in France this summer, then move to England for at least two years, reports say.
While the newly-engaged couple says there is no date planned for their nuptials, the New York Post says they've spent the last six months planning them.
The plan, allegedly, is to hold a lavish wedding ceremony at their manse near the village of Correns, in the south of France, London's Daily Star adds.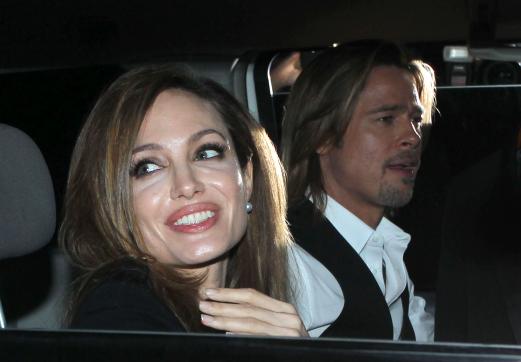 The engaged Brangelina will reportedly exchange vows in a pre-Roman chapel on the grounds before 200-300 guests, many of them Hollywood elites.
Pals George Clooney, Matt Damon, Johnny Depp, Tom Cruise, Jacqueline Bisset and her once-estranged father Jon Voight are expected to be on hand.
"They have been quietly preparing for one of the most glamorous show-business weddings of all time for months," a close friend of the couple said.
"I've seen their chateau; it is one of the most romantic settings imaginable."
As soon as the Brad-Angelina engagement news spread, locals began buzzing about "Le Mariage de Monsieur et Madame Smith," a takeoff on Mr. and Mrs. Smith.
It seems like forever ago that Jolie caused an outcry after admitting she and Pitt fell in love during that flick, when he was still married to Jennifer Aniston.
Jen is reportedly happy for the couple, if you believe what you read.
All a distant memory now, in any case, as the couple and their six kids are set to spend at least two years making their home just outside London.
Jolie is planning to shoot her next three movies in the United Kingdom, according to The Sun, including one that may co-star soon-to-be-husband Pitt.
The two also are eager to be near London for the Summer Olympics and believe their kids will benefit from the immersion in UK culture, sources said.
"They loved it when they were in the UK last year," a source said. "They like the culture and are happy for their children to receive schooling here."