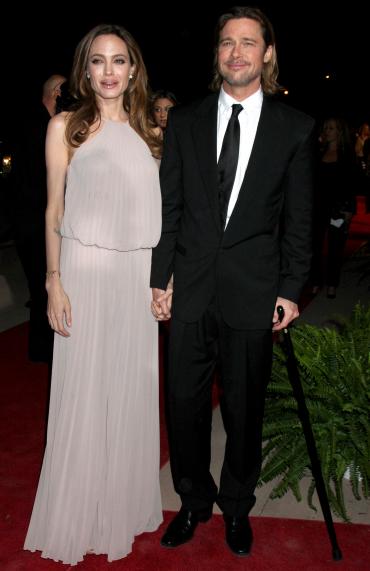 For the first time since the 2005 action-romance that brought them together, Brad Pitt and Angelina Jolie may be set to burn up the big screen together.
The Mr. & Mrs. Smith co-stars are in talks to appear alongside Shame's Michael Fassbender and Javier Bardem in The Counselor, directed by Ridley Scott.
According to reports, Brangelina's project is set to begin in a few months, and the movie will shoot in Europe. Both the Jolie-Pitts and Scott have homes in France.
Fassbender will play the title role of a respected lawyer who gets tangled in the drug business, while the film will reportedly deal with very gritty themes.
Unlike when they shot Mr. and Mrs. Smith, however, Jolie and Pitt are a bona fide couple - with six kids. Until now they have alternated film projects.
"We're not ones to repeat ourselves, but we'd like to, because now, we're hopscotching films so one can be with the kids and one's free to work," Pitt said.
"And why aren't we doing [movies] together? Why aren't we doing everything together?"
Looks like they soon will be.