It's a far cry from Hogwarts!
Emma Watson has abandoned her clean-cut Hermione look to play a bad girl in the upcoming movie The Bling Ring, about the five-person Los Angeles gang that burgled the homes of celebrities such as Paris Hilton, Lindsay Lohan and Orlando Bloom in 2008 and 2009, when most of its members were teenagers.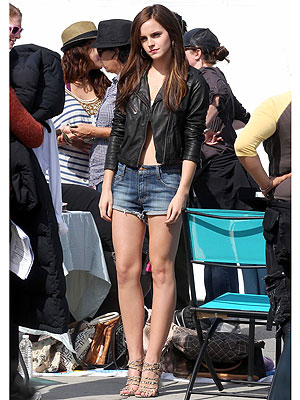 Watson, who turns 22 Sunday, was photographed on the Los Angeles set filming scenes in a bra, a black leather jacket, and skimpy denim shorts as her character, Nicki. Earlier in the week, she shot scenes for the movie at Century Regional Detention Facility in Lynwood, Calif., where Lohan has served time.
"Filming Bling Ring is going great. As Israel would say 'we are slaying this!'. Thanks for the good luck messages," Watson Tweeted last week, referring to her costar Israel Broussard.
The movie, written and directed by Sofia Coppola, is scheduled to be released next year.