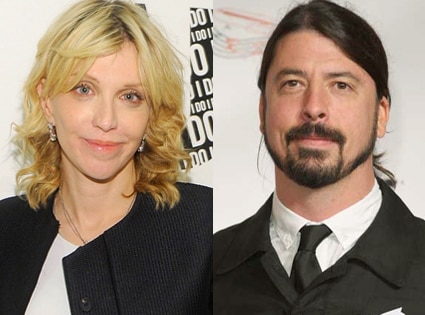 When it comes to letting the world into her private thoughts, Courtney Love and TMI go hand in hand.
The Hole singer went on yet another Twitter tirade, this time against ex-Nirvana member Dave Grohl, accusing him of hitting on her 19-year-old daughter, Frances Bean Cobain.
"Unfortunately Courtney is on another hateful Twitter rant," Grohl said through his publicist. "These new accusations are upsetting, offensive and absolutely untrue."
What the Foo Fighters frontman is referring to is a series of tweets the 47-year-old Love lobbed last night from her locked private account @cbabymichelle that was first reported by Gawker, which captured the outburst in a screen grab.
Here's a sampling—though it should be noted when the erstwhile "America's Sweetheart" refers to @davegrohl, she's mistakenly directing her ire not to the real Grohl but rather a German IT student whose account has been inactive since 2008!
"I hear from frannies roommate that @davegrohl hit on frances, and that she was curious, I'm not mad at her, him I am about to shoot, dead," Love tweeted.
In a back-and-forth with a follower who said he heard it was just a "flirtation," the volatile vocalist admitted the whole thing may have been gossip she heard from a driver, but still laid into the musician: "it could be a riumnour [sic] the actual sex, and it's not beans fault she's not slutty in any way, at all, HES OBSESSED."
"The driver from the cm who drove @davegrohl my daughter was telling me what st. on laurel canyon and that he had his hands all over her," she added.
Courtney went on to suggest that Grohl was "sexually obsessed with" her late hubby and his former bandmate, Kurt Cobain, claimed he "had that Romney rape thing about him" (whatever that means) and threatened to shoot him.
A rep for Love and Frances Bean could not be reached for comment.
This isn't the first time the frontwoman's 140-character antics have made headlines. In March 2011, Love settled a lawsuit brought by a fashion designer who accused Courtney of defaming her on Twitter. She was sued again in May by a former lawyer who claimed Love libeled her in yet more tweets.