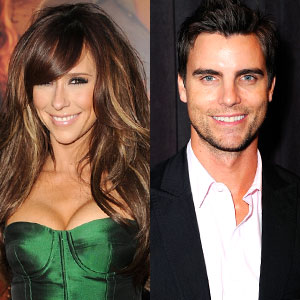 In case you haven't heard, Jennifer Love Hewitt is stripping down—way down!—for her new Lifetime series
The Client List.
But the buxom beauty isn't the only one taking it off for the show.
Get ready to drool over watch Hewitt's super hunky costar Colin Egglesfield showing off his smokin' hot body...
"[There's] lots of skin [and] lots of oil!" Egglesfield told us at last night's L.A. premiere of L!fe Happens.
Oil? Hewitt plays Sam Horton, a hooker masseuse who exchanges sexual favors for money.
"I'm not necessarily on the receiving end of her massages," Egglesfield, who plays Hewitt's brother-in-law, laughed, adding, "but there's a fair amount of my character mowing the lawn without his shirt on of course. Out in the back yard hitting the punching bag."
Sounds plenty good to us.
Egglesfield teased that the show's sex factor could be pretty risqué for some Lifetime fans.
"Unfortunately my character doesn't know about [Sam's] secret double life as a masseuse giving happy endings," he said. "It's strange because I never get to see her in her lingerie, in her getups and stuff, but reading the scripts, she definitely gets herself into situations where she has to make these decisions...In order to take care of herself and her family, she does things she needs to do."