Scarlett Johansson will soon star in The Avengers as Black Widow. Which is appropriate because, in many ways, the actress is still in mourning over her divorce from Ryan Reynolds.
"It's horrible. It was devastating. It really throws you," Johansson says in the latest issue of Vogue. You think that your life is going to be one way, and then, for various reasons or whatever, it doesn't work out."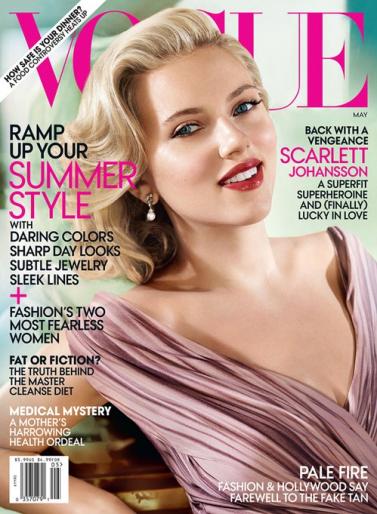 Johansson and Reynolds finalized the paperwork last summer in "comically amicable" fashion," the gorgeous star adds.
Does she regret the marriage? Not at all. It's "nice to know that you're capable of loving somebody in that way," Scarlett says. But it still hurts.
"This was something I never thought I would be doing. And there's no way to navigate it. Nobody can give you the right answer. It's never anything you want to hear. It's a very lonely thing. It's like the loneliest thing you'll ever do, in some way."
Since the split, Johansson has been linked to Sean Penn ("We were seeing each other," she admits. "He's a remarkable person.") and is now dating advertising executive Nate Naylor.
She's also been the victim of a phone hacker who unleashed every guy's dream upon the Internet: Scarlett Johansson nude pics.
It's "terrible," the actress says of imagining strangers looking at her naked body, adding: "You know what I mean? You can't not think that. Even if they haven't, you're paranoid."
Still, Johansson concludes of both the divorce and this picture scandal: "I don't want pity."