They've announced that they're getting married, she's done her UNHCR Special Envoy work and prepped to play the evil screen queen Maleficent – and now, the globe-trotting Jolie-Pitts have gone to Legoland!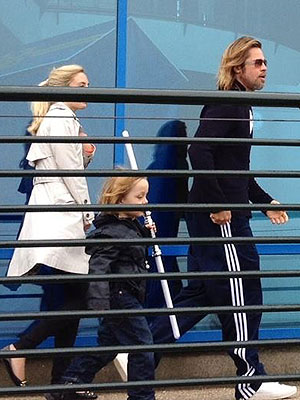 This time, it was the U.K. version of the fun park, in Windsor, after Angelina Jolie took kids Maddox, Pax and Shiloh kids to Berlin's Legoland last February, during that city's film festival. Also, this time the entire brood went, including dad Brad Pitt, a source tells PEOPLE.
"The whole family came and appeared to have a really wonderful time," says the source. "Both Brad and Angelina were very hands on and relaxed, helping the children to operate the rides and have a good time. They seem very much in love, too, and a really happy family."
In particular, said the source, they "seemed to enjoy our Atlantis Submarine Ride, as it only opened this year and is something they hadn't been on before."
Describing the attraction, the source said, "It is full of sharks and tropical fish and seemed to be a real hit with the children, who were all laughing and smiling."
In addition, the family also visited Odds Farm, a petting Zoo. But, clearly, the U.K. Legoland is a popular destination for them. Jolie and the older children had visited there twice in October 2011.
"Angelina has been here quite a few times before, so the family must really like it," said the source. This time, "They stayed about two hours and braved the elements by strolling around in a typically English spring drizzle."
And the reaction of their fellow visitors? "Obviously, they caused a bit of stir among the other parents, who stopped to turn and look. But they were basically left alone, as all of the other customers had their own children to focus on."
As a result, "They were really left to do whatever they wanted, just like any other family. It just seemed like a really fun family day out, and they didn't make any special requests or anything like that. They just wanted to be treated like any other family visitors."